MonkeyFeet is a device that allows users to lift dumbbells with their feet the same way they can with their hands. Although there are a bunch of fancy leg machines in gyms and for sale, the average fitness fanatic previously didn't have an affordable tool to workout legs at home. Paul Jackson is the entrepreneur behind this unique product.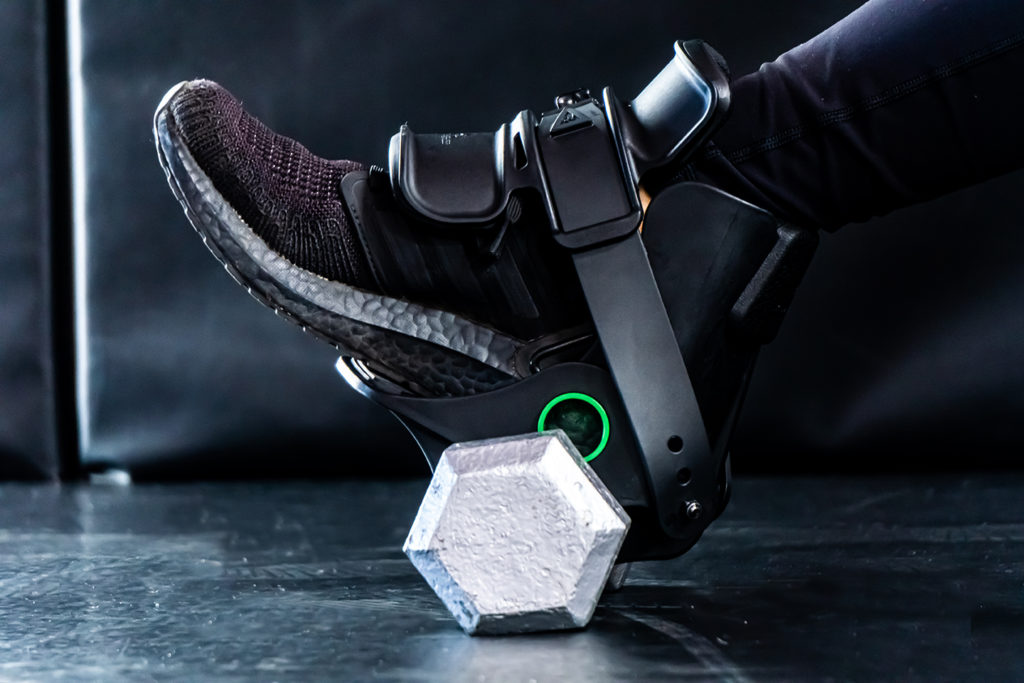 How did you come up with your product idea? Was there another person or a situation in your life that made you want to create it?
Long story short, my business partner had the idea when he was doing rehab on his ACL. When he came to me with the idea, we quickly digressed from inventing this product to creating an amazing fitness brand with lots of future products. We knew MonkeyFeet would be a unique and useful tool to not only get our business started, but to also put our brand on the map. We have a lot of big dreams ahead.
How is your product different or unique?
Until now, the only way to do isolated leg work out without a large/expensive machine would be ankle weights. Compared to ankle weights, MonkeyFeet can work with any dumbbell and can hold up to 165lbs. Ankle weights max out at 15 lbs.
Is this your first entrepreneurial venture?
No, I have tried a few other "side hustles"! I think that's the sickness of the entrepreneur. My favorite one is the clothing company that I started in 2012 in college called "The Stoked Company". Although it is more of a passion project, we have been growing it slowly ever since!
Was there anything in your past (childhood, young adulthood) that made you a better entrepreneur?
I could probably answer this in a lot of different ways, but I think the key point for me has always been creativity. I always tried to customize everything I owned and loved creating new things whenever possible. I liked to be different, and to make things that were unique (probably because it made me feel special!) My bikes always had custom paint jobs, I added a barbecue to everything I could (bike trailer, car, etc.), and I started a clothing company so I could sponsor my friends and me. These habits led me to become an engineer, and I think the combination gave me the bug of wanting to create a new product whenever I could.
Tell me a bit about your past as you see relevant (where are you from, where did you go to school?)
I am from Lafayette, California. I grew up with a really supportive family and ended up going to school at UCLA (BS/MS) after going to community college for two years. I was heavily into sports and always thought I'd be an athlete. I kept those dreams alive for as long as I could, but eventually had my wake-up call and decided that getting a degree was a good backup.
Tell me a bit about you. (Hobbies, favorite entertainment, favorite vacation spots)
As you can probably tell by now, I have always lived a really active lifestyle. I grew up a passionate mountain biker and dirt biker, while also doing cross country, wrestling, and lacrosse through high school. Strength training was a common thread through all of this, which has been a habit that's never left. I love comedy movies/TV, big fan of not taking things too seriously and having a good laugh. I think that's been the best part of starting Animalhouse Fitness. Evan (co-founder) and I do professional tasks in a much less than professional manner. It keeps the days fun and light; I think the world needs a little more of that. I just finished an awesome trip with my fiancé, we travelled in a travel trailer and van across the US for a few months and worked from the trailer. It was amazing, we found a lot of awesome places with exciting people living with a lot cheaper rent than the bay area. But that's not saying much!
When did you decide to become and entrepreneur? What were the circumstances in your life at the time?
I worked for two failed startups before starting Animalhouse. During the second startup (Boosted Boards), I had the idea of going full time on the idea in my head but wasn't quite ready to jump ship. I made myself the promise that if that company went under, I'd go all in on the idea and be officially unemployed. When Boosted went under in March of 2020, I took a week off then started full time on my side hustle. Seven months later, we launched our first product!
Tell me a bit about your company or team (do you have any other people working with in team or you are working all by yourself?)
The company comprises of me and Evan Gubera, a professional MMA fighter and Boxer. We get along great and have very complimentary skill sets. Evan has a deep connection into the fitness world, with a ton of knowledge around training for peak fitness. I am more on the technical side with startup experience. Together we have managed to align on a similar brand style with an aligned mission.
Did you invest any money in your business? Were there others that funded it?
I personally invested just under 10k plus the money spent during the time I was unemployed and starting the business. Evan invested around 20k, but we ended up getting a family friend to invest $100k to spot our first order of parts from our manufacturer.
What helps you to stay on your path and follow your goal during the tough time?
I really wanted to create a life where I had creative freedom and the ability to grow something special that could help people and improve lives around the world. When I need some pep in my step, I always think about that. Honestly, I think about the alternatives. I had two awesome jobs before this that I should have loved. But in all honesty, I always ended up bored and uninspired, feeling disassociated from the part of the company that was truly making an impact.
What were the best decisions you made when you were starting your business?
It is still very early to tell, but I think our level of developed product was balanced fairly well. You can spend forever iterating on a design and still not hit what the customer wants. We did a ton of iterations and customer feedback sessions, but nothing compared to the true feedback that paying customers give. Luckily, we weren't too far off, but we couldn't have painted nearly as clear of a picture as what the customers painted for us. The buzzword of minimum viable product is the perfect balance, and I think we nudged just past that. In addition, I think staying true to ourselves and sticking to our gut has proved more than powerful. We started this for a reason, and authenticity was always a huge driving factor. We wanted a company that we also loved, so compromising on things because it might sell more units was not something that would keep us passionate long term.
What were the worst decisions you made when you were starting your business?
Quite the contrast, but the times we didn't follow our gut. We trusted advice from a few people just because they were older or more experienced, which resulted in quite the train wreck of results. If things felt wrong, they usually ended up wrong. We also have already gotten duped by a few marketing campaigns that looked cool and shiny but ended up being a waste of money…. We are learning new things every day! So far, we haven't made any huge mistakes, but I do feel that all the little failures are an awesome opportunity to improve and learn. One funny story that might be a mistake is naming our product MonkeyFeet. When customs saw that written on our forms, they tore through our entire first shipment on boxes down to every product. They were looking for actual monkey's feet.
What advice have you found indispensable in running your business?
The advice that didn't seem as intuitive at first was something that a few respectable founders kept drilling into my head. It was to get to know your customers, and really know them in and out. I felt like I knew that customer service was important, but this was a whole new level of really prying out all the feedback from customers that you can. Honestly, I'm still figuring this one out, but it has already paid off in trying to serve customers the things that they want.
Going forward, what are your plans for this product or for other entrepreneurial pursuits?
We have only had two months since our launch, but our main goal for the next year is to scale and sell a bunch more MonkeyFeet. We would love to improve the product based on customer feedback until it is a polished tool that every home gym has. After that we will come out with some more products under the Animalhouse name, trying to keep the innovative nature going.
What advice do you have for entrepreneurs who just starting their journey?
Know why you are doing what you are doing. Try to do something you are as passionate about as possible. It's always easy to start something when it's new and exciting, but if it works you will end up having hard days, so make sure you will love it then as well.
Please follow and like us: