In coming days, I will be interviewing different internet entrepreneurs, startup owners, bootstrappers, and indie hackers. I will be asking them all kinds of questions about their businesses to share their stories with the world and help the new generation of entrepreneurs learn from their experiences!
Why Am I Starting This Blog Series?
One of my main ideas for this publication is that I want to tell the stories of likeminded people, who have the same passion and interest. I want to create a community where we can learn from each other and we can share our experiences. We can share our stories, struggles and lessons learned.
Today, I will Interview Myself!
My name is Bohdan, and I am a serial online entrepreneur, startuper, indie hacker, and a digital maker. I have been selling online since 2009. My roommate and I started on eBay, selling with a drop shipping company as a side hustle. When my full-time work got too busy, I left the drop shipping hustle behind.
I came back to online sales a short time later. I just could not stay away! I knew it was an excellent opportunity to make money, so when opportunity knocked, I responded.
A friend of mine asked me to become his business partner selling auto parts. I agreed and invested a small amount of money in the business with the goal of it becoming my full-time job. We sold products on eBay for a month before we applied to open an auto parts store on Amazon.
We signed an exclusive distribution contract with an auto part repair kit company based in the United Kingdom. After a couple of years, they sent us a contract to become their exclusive partner in the USA. We accepted happily! When life circumstances changed, I parted with my business partner but kept selling auto parts. I expanded to Amazon Canada, Amazon Mexico, and various eBay platforms. From there, I expanded to Walmart Marketplace.
When I couldn't find an affordable inventory management software that worked, I created my own and called it ByteConn.
My online software is now available for others! I figured that if I had these challenges others did too. Byteconn is my next entrepreneurial venture.
My History:
I was born in Ukraine, in an exceedingly small town with a population of 15,000 people.
When I was in school, I knew that I wanted to work with computers and develop computer programs. At that time, the internet was not popular in Ukraine. When the internet arrived at my small town, my family was one of fifteen subscribers.
I wanted to have my own tech company as a kid. I used to dream about starting a gaming company where we developed all kinds of cool games. Then I decided I wanted to develop computer software to help solve the problems people face.
I wrote my first program when I was 14. It was written in Visual Basic. Then, "Who wants to be a millionaire" in C. From there, I developed many other programs and codes as I practiced and grew my skills.
I dreamt of living in the USA, where all the tech advancements were happening. I even wrote a letter to Bill Gates when I was a teen, asking him if he would hire me. My mom found it a few years ago, and we both had a good laugh.
I moved to the USA at the age of 18. I was working in a pizzeria in Taj Mahal, Atlantic City, and I worked on my programming in my spare time. I am a self-taught software developer and designer.
My Interview:
Describe your product in your own words. Is there anything that I should know about the product that isn't already on your website?
ByteConn is a simple inventory management system for small online sellers. I was struggling with finding a good inventory management system for our online business, and I couldn't find one. As a web developer myself, I decided to build my own inventory management software. I wanted something for small to medium businesses that was affordable and practical. One that didn't have too many unnecessary features.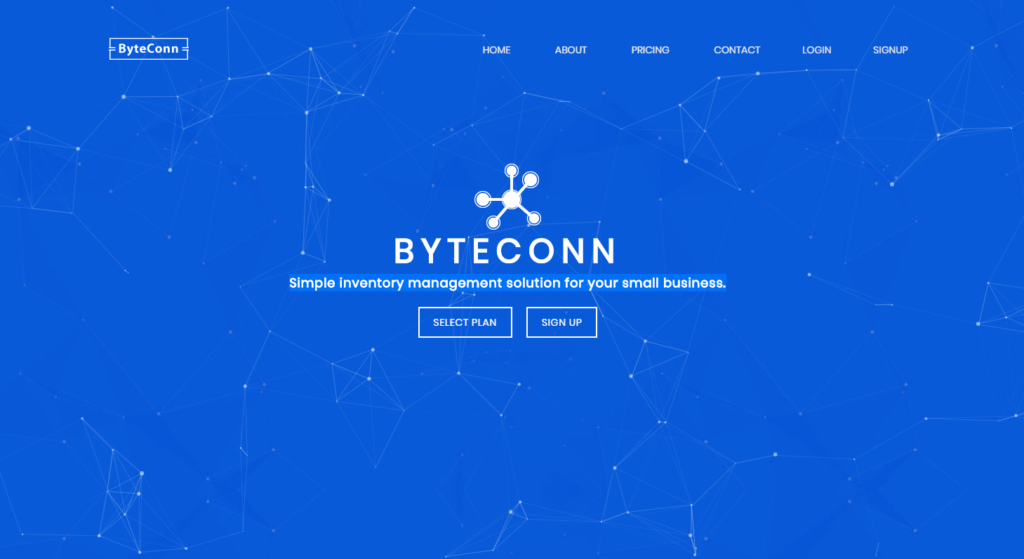 How did you come up with your product idea? Was there another person or a situation in your life that made you want to create it?
As a small online retail business, we were struggling to find a good, affordable inventory management solution. One day I just sat down and started coding a simple inventory system. When we needed more features, I added new functions to the software. It was exactly what a small or medium sized business needed.
After couple of years of building the software, I realized that we had a good inventory management system in place for ourselves. I decided to make a more professional user-friendly interface. Then I began to share this tool with other small online retailers to help them with their inventory needs.
How is your product different or unique?
It is a simple and easy to understand inventory tool, without any unnecessary features. Most importantly, it is affordable for small online sellers who do not have the budget for more expensive software programs.
Is this your first entrepreneurial venture?
This is not my first rodeo. I have had a couple of other projects before this one. Some of them were successful, some of them were a total failure. Every one of them was a learning experience!
Was there anything in your past (childhood, young adulthood) that made you a better entrepreneur?
Yes, it was taught in Ukrainian life. I learned very quickly that if I wanted to get anywhere in life, I would have to work very hard and never give up.
Tell me a bit about your past. (For example: Where are you from? Where did you go to school?)
I was born and raised in a small town in Ukraine. My father has a fish lake farm and a bee farm. During school I was always helping him with farm work. Every summer, most of my time was spent on the lake. I read computer and programming magazines in my free time.
I learned a lot from my father. He is a role model for me. He is a hard worker and an honest man. He taught me to always follow my goals and never give up. He is always helping others if they ask for help. I get that from him, I like to help other people as well.
Tell me a bit about you. (Hobbies, favorite entertainment, favorite vacation spots)
I've enjoyed working with computers and making my own programs since school. It's still my favorite hobby now.
My favorite vacation spots are Puerto Rico and Montreal, Canada. Two totally different, yet equally amazing, places. One is hot and tropical and the other is northern and cold. Both are places that that are full of history. I love historical places. I like to see and learn about how people lived, their culture, and what their societies were like.
When did you decide to become an entrepreneur? What were the circumstances in your life at the time?
Since my early years in school, I always wanted to work with computers. I knew everything about computers at the time. I wanted to create computer programs. This was way before internet. I also dreamt about having my own tech company during the time.
Tell me a bit about your company or team (Do you have a team, or are you working all by yourself?)
I have great team for our online auto parts retail. They are just the best at what they do. Honestly, I could not have built our online retail business without them.
Did you invest any money in your business? Were there others that funded it?
I did invest some money in my online auto parts store together with my business partners. But I did not invest anything in ByteConn. Just my time, hard work, and $15 a year for a domain.
What helps you to stay on your path and follow your goal during the tough times?
There was a of lot tough times during my journey. Most of them were related to my entrepreneurial activities. The most important thing for me was to stay focused on my main goal and not to give up.
I had to learn to believe in myself and believe in my success. I always think positively about everything, even if it feels like it won't work. I do my best to never think negatively.
What were the best decisions you made when you were starting your business?
The best decision I made was to partner with my current business partners. We were friends for many years. I knew them and trusted them and knew what to expect from them business wise.
The second-best decision was to create ByteConn. It helps me with my inventory, and I was able to monetize it.
What were the worst decisions you made when you were starting your business?
We were investing time and money in things that we never needed. With every business, you never know what will work (or fail) until you try!
What advice have you found indispensable in running your business?
Always trust your business partners, no matter what. If you do not trust them, you better stop doing business with them right away.
And secondly, 99% of the time there is no easy route. And don't give up too early, but I also always know when to stop if something isn't working.
Going forward, what are your plans for this product or for other entrepreneurial pursuits?
My plan is to keep building our auto parts business and keep developing the inventory management tool. Of course, I also plan to continue my work on this publication. I want to find other bright and goal-driven people willing to share their stories. I see this helping the next generation of entrepreneurs. We can learn from each other's experiences!
What advice do you have for entrepreneurs who just starting their journey?
I watch video tutorials every day about programming, marketing, and being an entrepreneur.
There is huge power in knowledge, so learn as much as you can. Try to improve your skills every single day. Learn something new every day about the thing you are passionate about. You never need to stop learning!
In Conclusion
I hope you enjoyed my question and answer article. I am excited to share my story and the stories of others over the coming weeks. Stay tuned!
If you have an amazing story and lessons to share, let's talk!
Please follow and like us: