Vladimir and his partner are the brains behind the ever-popular UI Bakery.
UI Bakery is a visual web app building platform developed to create business applications with a responsive design. The core UI Bakery strengths are app customization, data connection, API integration, and an ability to generate a downloadable code in Angular allowing you to export your web app from UI Bakery absolutely for free. UI Bakery is almost the only low-code web app builder that doesn't lock you inside the platform. This means you can take your web app code, edit it, and use it outside the UI Bakery web apps builder as you wish.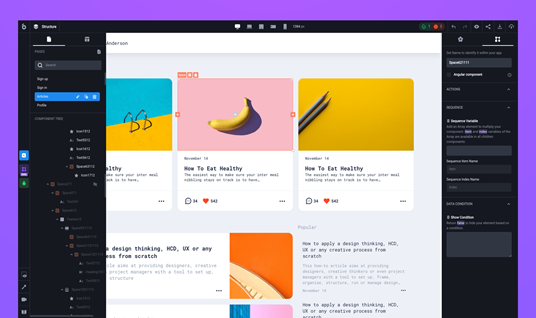 1. How did you come up with your product idea? Was there another person or a situation in your life that made you want to create it?
In 2015, I co-founded a tech company, Akveo, where right now, among other products, we're working on UI Bakery.
Before UI Bakery went live in September 2019, we'd developed Eva (a customizable Design System), Nebular (a web UI library), UI Kitten (a React Native UI library), and ngx-admin (an admin dashboard template). The success of ngx-admin made us think about creating something like UI Bakery.
At that time, we were often getting the requests from ngx-admin users about enabling app branding functionality in our admin dashboard. We decided to simplify a design process and made it affordable for small companies with tight budgets. We developed a machine-learning algorithm able to generate an appropriate color scheme based on an uploaded logo. However, it was not exactly what users needed.
And here starts a long way of verifying hypotheses aimed at finding out what the market needed. Eventually, we figured out that users wanted to fully customize the dashboards and applications they build (remove and add UI components, change their sizes, etc.), not just edit color themes. Back then, we didn't even have a clue about a no-code / low-code development approach.
After a range of surveys and interviews with the current and potential clients, the UI Bakery low-code development tool is live, and we are helping our customers solve their web app development challenges.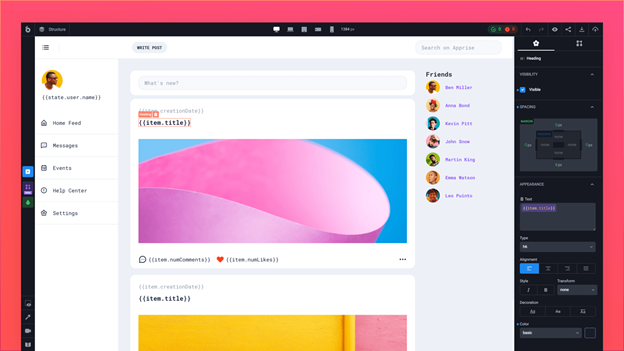 2. How is your product different or unique?
As mentioned earlier, UI Bakery is the only low-code development tool generating a downloadable code in Angular you can use outside the development platform.
UI Bakery has Nebular with its predefined UI components under the hood. Nebular is based on the Eva Design System. Thanks to these powerful Open Source tools, our low-code app development platform offers rich app customization & branding opportunities.
UI Bakery has a continuously growing library of free ready-made web app templates and dashboards. We generally choose the templates to develop based on the users' requests in our community. We're always open to fresh ideas, advice, and suggestions.
3. Is this your first entrepreneurial venture?
My first entrepreneurial venture is Akveo – a tech startup I co-founded with my friend in 2015, and UI Bakery is a product Akveo's investing in now.
4. Was there anything in your past (childhood, young adulthood) that made you a better entrepreneur?
I've always had a very strange "finishing habit", even if I don't really like what I'm doing. For example, I could read a book I don't like, and I finished it, even if I'd needed to take a half-year break before I did it. For example, "Ulysses" by James Joyce is a great book. I loved the variety of narration styles the author uses, his attention to details, etc. James Joyce's recognized among the top-rated literati. However, I would hardly recommend anyone reading it. I hated every second I spent with it from the very start 🙂 And still, I read it till the end for some reason.
This finishing habit was useful when I was starting out my business and tried to do everything at once. Now, I prefer to firstly identify the important stuff to deal with and focus on it.
5. Tell me a bit about your past as you see relevant (where are you from, where did you go to school?)
I was born in Minsk, Belarus (where I live currently) into the family of a doctor and a university professor. I was quite a normal kid, can't say that I demonstrated any extraordinary skills in my childhood. I graduated from the BSU Lyceum, and then got a computer science degree in the Belarusian State University of Informatics and Radio electronics.
6. Tell me a bit about you. (Hobbies, favorite entertainment, favorite vacation spots)
Besides computers, I was always fond of two things – music and sports. From my early childhood, I've been playing football with my friends almost every week. Probably, this habit made me a good team player, and taught me to stay competitive, which helps me in my professional life a lot.
As for music, at some point of time, the right side of my brain whispered to me that I need to play it as well – not only listen. I learned to play the guitar, the piano, and now I'm learning to play the cajon.
7. When did you decide to become an entrepreneur? What were the circumstances in your life at the time?
When I was at the third course of the university, I worked part-time as a junior software engineer in a large software development company. After having worked there for 3 years and having become a senior developer, I felt that I needed to change something. Fundamentally. I left the company just once I found my first client. After 1 year of freelancing, I got bored. I felt a great desire to grow as an entrepreneur, not as an ordinary developer. I invited my good friend I've known since my childhood to join me, and we launched our own software development business from scratch.
8. Tell me a bit about your company or team (do you have any other people working within the team or you working all by yourself?)
Right now, our company consists of more than 70 people, and we have 3 offices: in Denver (CO), Minsk (Belarus), and Vilnius (Lithuania). We have a product department mostly busy with developing UI Bakery, one of our products, and a services department that provides consulting services to our customers.
9. Did you invest any money in your business? Were there others that funded it?
Our company is bootstrapped. When we were starting it, I had some money I earned at my previous place of work. However, I didn't invest much. My co-founder and I were investing our time and didn't pay a salary to ourselves. We paid a salary only to one of our first employees.
10. What helps you stay on your path and follow your goal during the tough time?
I think that OKR is a great methodology to remember and keep track of your goals. We started to use them a year ago, and we review our progress within all of our departments weekly. It helps us to plan and track progress.
11. What were the best decisions you made when you were starting your business?
Focusing not on the short-term benefits but investing in the long-term ones. My co-founder and I could have earned much more at the beginning if we just paid ourselves what we were earning. Instead, we reinvested what we earned, and built the products that moved us to a completely different level.
12. What were the worst decisions you made when you were starting your business?
I constantly stayed aware of everything happening inside the company and tried to control it. Once we had more than 10 employees, I was a bottleneck, and I stressed out a lot since I was physically unable to handle all of it.
13. What advice have you found indispensable in running your business?
Build a profoundly good product or provide really good service to your clients.
14. Going forward, what are your plans for this product or for other entrepreneurial pursuits?
The main long-term goal for now is to find UI Bakery product-market fit. That's why we're actively verifying adhering to a growth hacking approach.
Among our short-term goals, the key ones are:
Improve the overall UI Bakery performance.
Release new features like reusable components, a marketplace, an ability to import a custom UI kit, and some others. All of them can be found here in our roadmap.
Enable more third-party integrations (Firebase, Google Sheets, etc.).
Enable work of several users on one UI Bakery project at once.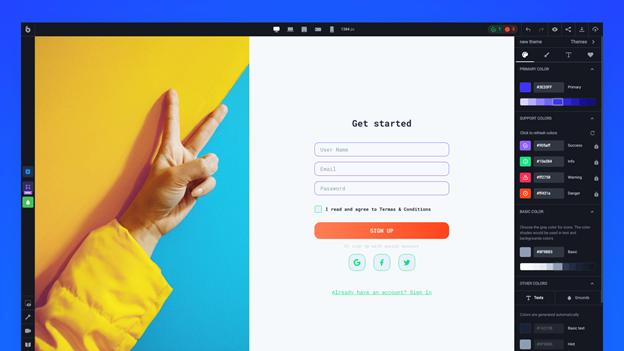 15. What advice do you have for entrepreneurs who are just starting their journey?
I'm afraid to seem rude but: "Don't think that you're a genius. Go learn new things" If you want to find out more about UI Bakery or Vladimir, he can be found on social media and on the company website.
Please follow and like us: